VMware Digital Workspace Beta Program
INTRODUCTION
Over the past 10-15 years a lot has changed for developers. Before Apple released the iPhone in 2006, apps were called applications or programs, C# and JAVA were the preferred coding languages and typically applications were released in fixed cycles (e.g. every 2-3 years). Since the incarnation of the App Store suddenly the game has changed. App developers can easily update their apps as required and make it almost instantly available to their end-users. Going from 2-3 release cycles per year up to 2-4 per month. Introducing new features and bugfixes got so much easier. Finally, the world has become a better place for app developers… But as always – there is catch!
Grab yourself a cup of coffee as I walk you through the importance of beta programs and why you should start participating.
IT'S JUST ME, MYSELF AND I?
Yes, I'm borrowing the music title from De La Soul's hit (warning 1989 is calling!), but somehow nails it what I'm about to describe.
It is indispensable to extensively test your app before releasing it to the public. However, in the past app developers were testing their apps only in their lab environment. Most lab environments were clean and purposely built to find annoying bugs in apps. But as apps get more and more complex and possibly connect to 3rd party backend systems (e.g. Microsoft Exchange, Content Management System (CMS) or file repositories) chances are you're not uncovering potential bugs. Why? Because we're neglecting what's not obvious: network, infrastructure and multiple backend system version with various patch levels!
Without doubts this is almost impossible for developers to test every version and patch level combination of all supported backend system just to verify their app is working as expected. On top, if developers add the network architecture (e.g. load balancers, proxies, security policies…) of a "typical" enterprise customer into the mix, you're facing a never-ending story!
But the real nightmare for developers begins right after publishing their new app when enterprise customers suddenly run into serious problems as the app is not working as expected and potentially causing even a financial impact. Guess what's next?
Customers start to complain, raise support tickets and may express their concerns if your company (or the developer) is the right partner… force to start an escalation to find the root cause and finally get it fixed. See? I told you it's a real nightmare – but now for both parties. Let's quickly change the perspective here.
IF YOU WERE A DEVELOPER
How much does finding and fixing a bug cost? Based on a research a typical bug fix can cause 3,850 – 4,150 US $ (3,260 – 3,520 €)* if it was caught during beta testing. This is just one bug! Now imagine the bug was discovered after you made the app publicly available. It would cause you roughly 10x more! And we did not yet take into consideration that there could be a bug, which may lead to a complete code rewrite of a specific feature or reproduce a specific customer's network architecture, generating even more cost. What about your company's operational cost or app reputation?
I bet you wish you had more beta testers to avoid such scenario, wouldn't you?
IF YOU WERE A CUSTOMER
Typically, the Digital Workspace product owner treats his/her services as if he/she was selling it to an internal customer. It must work flawlessly 24/7/365 without any outages. Hence, if the service does not work due to none working app, the customer will start raising support tickets and may lead to escalations. In case an executive user is affected – you're doomed 😉
In panic the product owner starts getting in touch with the app developer to find the root cause. If both get lucky, the issue can be resolved quickly and we're back at happy days. If not… I'm sure you know what happens next.
IT'S NOT ALL ABOUT FINDING BUGS
So, by now you may think the main purpose of participating in beta programs is to find potential bugs, right? But the truth is that's not quite right. As a beta tester you want to test upcoming new and exciting features, which may enhance the overall end-user experience or enables support of new use cases. In my opinion, this should be THE focus if you take Digital Workspace seriously. It helps to align your End User Computing (EUC) strategy… and be a lighthouse in your company, too!
VMWARE'S DIGITAL WORKSPACE BETA PROGRAM
With customers and partners in mind, VMware EUC division has created a dedicated site: VMware Digital Workspace Beta Community, where it offers abundant EUC beta products for participants to choose from for different OS and SaaS platforms, with consistent and easy navigation and auto email notifications to its users.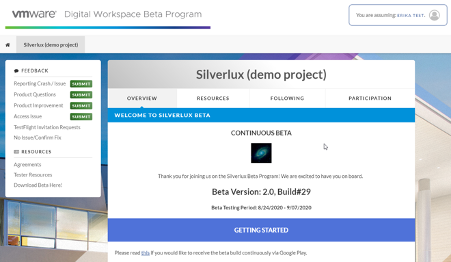 WHAT'S IN FOR ME?
By joining in the program, you are not only getting the first-hand knowledge of what will be the latest and the greatest, but also be getting the direct feedback support from the product R&D staff.
Currently the program offers Workspace ONE and selected Horizon beta products, as you join the program you will have the ability to participate in the newest additions.
Benefits:
• Access the newest product alpha/beta/tech preview/limited feature release builds and receive them continuously
• Access to the newest and most innovative features and enhancements
• Have direct impact on the latest and greatest products before general availability releases
• Have direct interaction with the Product and Engineering teams on feedback submitted
WHAT DO I NEED?
Well, obviously you must register yourself to the VMware Digital Workspace Beta Community site and complete your profile (e.g. Apple ID, Google ID). After that it's pretty straight forward:
• Opt-In to the beta program of choice (e.g. Intelligence Hub, Boxer, Content)
• Have few test devices at hand
• Provide feedback and improvement suggestion
• Optional, but highly recommended: add more people of your team to join the VMware Digital Workspace Beta Program
Sounds great? Here's your sign up link and QR code: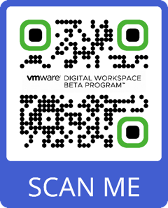 CONCLUSION
In case you are lazy and skipped all paragraphs (no offense – time is precious) here is my conclusion. Participating in beta programs is not all about findings bugs or performance issues, but more testing new features and aligning your EUC strategy or just improving the end-user experience. It may open opportunities to support new use cases and elevate yourself in your company. Isn't this enough to justify participating beta programs such as VMware's Digital Workspace Beta Program?
All you have to do is to spend a small amount of your time on testing and having test devices at hand, if you are using the beta builds as your daily drivers, you won't even feel like you are beta testing. So, what are you waiting for? Sign up!
*based on 4-hour estimate per bug, per one developer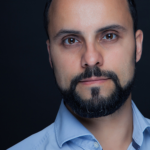 Experienced Senior Customer Success Manager with a demonstrated history of working in the End User Computing (EUC) space. Passonate with helping customers accelerate time to value and achieve their business outcomes whilst creating a collaborative working environment that motivates people to do their best work. Additionally, profession for finding technical solutions and absolute tech nerd with a Bachelor in Computer Science (Bsc)